MD MED
Experience : 20+ years
DR.RAKESH PERIWAL
PHYSICIAN
MD MED
Experience : 20+ years
Dr. Rakesh Periwal, who has been an expert consultant in Critical Care therapy, is associated with Apollo Clinic in Guwahati. He has expertly treated scores of complex cases in Critical care and general medicine, many of which he has undertaken by one of the best medicine doctor in guwahati. 
Dr. Periwal specializes within the primary care of just about all clinical situations, together with situations that have an effect on the cardiovascular, respiratory, gastrointestinal, neurological, hematological, or endocrine structures, and so on. 
Furthermore, he is adept at the treatment of sleep disorders to boot. He has amassed 20+ years of experience, knowledge and insight in his field of Critical Care medicine in Assam and India. He has made a compilation of several self-written ratified varied guidelines for postoperative pain management as well as 24/7 critical care outreach service to help support Intensive Care Unit and the several medical centres and hospitals in the city of Guwahati and others.
Dr. Periwal has been a medium for advanced life support provider guides and a part of many national and international conferences and has published extensively in countless journals reviewed by others notable experts in his field. Dr. Periwal is devoted to building an extended rapport with his patients and their families. He provides continuous person-centric care at the same time as the usage of modern day technology for diagnosis and treatment. 
MBBS
Experience : 15+ years
DR. SIDDHARTHA GOSWAMI
PHYSICIAN
MBBS
Experience : 15+ years
Dr. Siddhartha Goswami carries with him a rich 15+ years of post-specialization experience in dealing with outpatient as well as complex in-hospital patient illnesses such as Cardiac, diabetic, Pulmonary, and tropical disease-related ailments. He is currently practicing at Apollo Clinic Guwahati.
General medicine is a base speciality and its help is sought by all superspecialities. Dr. Goswami gives comprehensive primary care treatment in an outpatient alongside imparting a holistic care approach to hospitalized patients complaining of an extensive range of ailments. Dr. Goswami is extremely adept at combining the latest state of the art medical equipment and expert care to bring about satisfactory prognoses in the management of acute and chronic health issues like joint problems, acute illnesses like respiratory tract infections, and chronic illnesses like diabetes and cardiac disease.
Dr. Goswami's modus operandi is to deliver multidisciplinary care to patients of every age. He also imparts health and wellness education and professional counseling to the patients and their attendants which allows the facilitation of a speedy convalescence. He also works in collaboration with all the other speciality divisions for a holistic evaluation of the patient's condition. As an internal Medicine doctor, he is skilled in providing personalized and powerful care to all of the patients together with follow-up visits to make sure of complete healing.  
Patients who have autoimmune disorders, genetic disorders, metabolic syndromes, rheumatological diseases, and hematological problems are accurately diagnosed and managed by Dr. Goswami. Also, where multiple super-specialty problems exist in the same patients, he has a special role to play in adjusting medication and providing comprehensive care to the patients.
MBBS
Experience : 20+ years
SADIQUL ISLAM
PHYSICIAN
MBBS
Experience : 20+ years
Dr. Sadiqul Islam, an Internal Medicine Specialist at Apollo Clinic in Guwahati, has had experience of 20+ years in his field. Having completed his MBBS from Guwahati Medical College and MD in Internal Medicine later on Dr. Islam is well-known for his expertise and compassion while treating patients, his attentive and non-judgmental nature while listening to patients' complaints, and dealing with them in an effective and resolute way. He has enjoyed a laudable academic career and has distinguished himself in his field of study by scoring top marks in various topics in his sphere. He has several prestigious credentials, including national and international certifications. 
His passion for his work and his compassion for patients have led him to achieve excellence in his field. Today, he is considered one of Assam's leading doctors. His exemplary work has earned him national recognition. He has been providing expert medical opinion on difficult cases for the last nineteen years. He has been successful in carrying out several innovative interventional studies in the field of medicine. Dr. Isam is an excellent health educator, and also a great teacher. His practice as one of the best medicine doctors in guwahati has been a flourishing one and one and many Guwahatians as well as fellow doctors vouch for his excellence as a Medicine specialist.
MBBS
Experience : 30+ years
Pranabjyoti Das
Physician
MBBS
Experience : 30+ years
Dr. Pranab Jyoti Das is an Internal Medicine Specialist in Guwahati, and has experience of 30+ years in this field. Dr. Das practices at Apollo Clinic, Guwahati. His body of work encompasses a wide range of medical services, including those for diabetes, hypertension, all autoimmune and infectious disorders, poisoning cases, and cardiology-related problems. He is known to actively and proactively participate in emergency procedures alongside other doctors for the benefit of the patients. Dr. Pranabjyoti Das and his critically acclaimed work have been honoured with various prestigious awards and with nearly 30+ years of experience, he has amassed a wealth of experience and expertise. He is also an Intensivist / Critical care specialist with expertise in managing patients with various respiratory and critical illnesses.
He is a highly skilled specialist who provides a wide variety of non-surgical medical services to adults. He has a strong dedication to treating patients with challenging medical conditions and stays in touch with them until the conditions are resolved or stabilized. Dr. Das is very good at maintaining relationships with his patients, which ensures continuity of care. He takes into account your total well-being, including your physical and emotional health, when treating common medical problems. He plays an important role in a larger healthcare system, striving to protect, maintain, and improve your health by researching, identifying, and treating wounds and illnesses.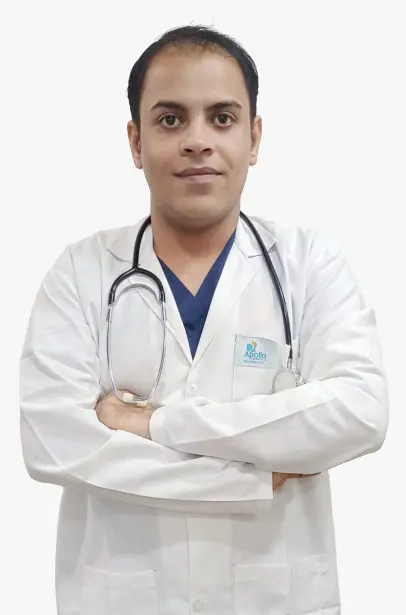 MBBS
Experience : 5+ years
Dr. Siddharth Sehgal
PHYSICIAN, 
MBBS
Dr. Siddharth Sehgal is a highly skilled physician with 19 years of experience in the field of medicine. With expertise in a variety of fields in medicine, and has received numerous awards and recognition for his work. He completed his medical degree from Kasturba Medical College in 2000 and then moved to the United States of America. He came back to India in 2018 and is currently working as a Physician at Apollo Clinic in Guwahati, Assam. Up until recently he had been serving as a Consultant Physician at the Apollo Spectra Hospital, New Delhi as well as at Medical Care Clinic, West Patel Nagar, New Delhi.  
Dr. Siddharth is an expert in diagnosing and treating a variety of illnesses and injuries. And with years of experience he is a trusted name in medicine and arguably the best medicine doctor in guwahati. He is extraordinarily well-versed in the properties of drugs and their interactions, procedures for administering them, and methods for preventing health problems. He is also capable of offering patients with both mental and physical dysfunctions psychological support, care, and rehabilitation. His ability to make thoughtful, effective decisions when it comes to treating injuries and illnesses is truly remarkable. Dr Sehgal also has a strong sense of critical thinking, which allows him to identify the best recovery option for the most effective prognosis. Dr. Siddharth is skilled at explaining physical problems in a clear, understandable manner, helping patients understand what is happening to their bodies and how treatment can help. His entire body of work can be summed up in expert administration and dispensation of healthcare for the most complex diseases, injuries, and illnesses and specialized care to meet the patient's specific needs and dedicated monitoring of the patient's progress and current condition.